AeroHUD
You don't have to be a Top Gun to realize flying modern aircraft through rain, wind and fog can be incredibly challenging. Pilots not only have to know their stuff, but must be able to process huge amounts of instrument data to avoid potential hazards.
AeroHUD–In Full Production,
FAA Approved!
The DigiLens AeroHUD helps solve for this with an integrated synthetic vision system. It  is now in full production. The FAA certification makes AeroHUD the world's first waveguide HUD to be approved and is a testament to the integrity of the DigiLens' technology and material set.
Using AeroHUD, not only can the pilot see telemetric data like compass, altimeter and speed, but also full 3D graphics of terrain, helping them to clearly see approaching hills and the exact location of the runway—all whilst in white-out fog. It's like flying a real aircraft using a video simulator which demonstrated the power AR has on helping to save lives. This level of clarification makes the pilot, especially those in small aircrafts or executive jets, more confident because they have a clear understanding of their status overlaying their clear forward view.
AR HUDs Take Flight
HUDs have been around for decades in large aircraft, but until recently the enabling technology behind them was simply too big for midsize and light business planes. DigiLens changed everything a few years ago when it delivered AeroHUD, the world's first holographic waveguide HUD for commercial aviation.
The wide field of view HUDs are smaller, lighter and more affordable than competitive systems that were built around space-demanding overhead projectors. They also come packed with the latest enhanced video system (EVS) technology, including the ability to detect LED and most other types of runway lighting. Just as important, they include unmatched optical capabilities.
That's why head-up display systems are becoming more important in commercial aviation.
An independent Flight Safety Foundation study found 38 percent of aircraft accidents and nearly 70 percent of landing and takeoff incidents could have been prevented by pilots using HUDs.
Why? Because like motorists, pilots can be distracted by too much data coming their way from too many directions. At the same time, they must continually make split-second decisions based on all that information–with very little room for error.
HUDs address this by collecting and placing critical flight data right in front of the pilot on one or two easily-viewed glass displays. This provides much greater flight path awareness, improving safety and making the pilot's job a little less stressful.
With the introduction of AR technology, HUDs can get even better, accurately superimposing readout information on images of the outside world and eliminating the need for pilots to continually shift and re-adjust their focus between images.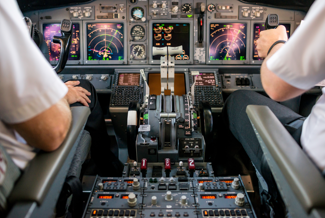 Our Story
Founded in 2005 as Switchable Bragg Grating (SBG) Labs, the name of our technology, DigiLens has been pioneering AR and VR displays for over 15 years.
Learn more
The DigiLens Blog
Stay up-to-date with the fun things we're developing with our technology.
Read more
Learn more about DigiLens