DigiLens Announces Launch of SRG+
---
SRG+ is set to revolutionize the industry by delivering reflective efficiencies at an HOE cost
Sunnyvale, CA — April 3, 2023 — DigiLens Inc., a global leader in waveguide technology, is proud to announce the launch of SRG+, the next level of surface relief gratings (SRG) that advances DigiLens' current industry-leading volume Bragg gratings (VBG) with improved efficiency, uniformity, increased field of view, and compact form factor — all at a low price point, and with the ability to mass produce efficiently. The SRG+ process is an extension of DigiLens' well-established VBG technology. It results in an SRG structure that has no residual bias layer and best-in-class control over the creation of grating angles leading to industry-leading efficiency and minimal eye glow. This enables the highest-performing and most socially acceptable waveguide displays at a consumer price point.
Dr. Bernard Kress, president of SPIE, the international society for optics and photonics, said, "Over the past 50 years, Moore's law pushed for successive IC fab technology revolutions. Over the past two decades, nanoImprint lithography (NIL) has been a great tool for 3D nanostructure replication, and resonated well with the Wafer Level Optics industry, providing new opportunities from Metalenses to AR waveguide gratings. The need for costly 3D etched masters has been a limitation for its adoption in consumer goods production, especially when the number of AR waveguides is low. With new challenges arising, such as higher aspect ratio high slant nanostructures without any residual layers over large areas, the industry is left with very few options. I am excited about Digilens' recent SRG+ developments, which provide a new, low-cost replication technology satisfying such drastic nanostructure requirements. The AR waveguides field is the tip of the iceberg as such novel nanostructures and related cost models create new design and application opportunities ranging from biotechnology to quantum and beyond."
Features of SRG+ include:
Higher delta-n: Higher diffraction efficiency and wider angular response
S&P polarization: Ideal for microLED
No bias layer: Wider angle response with high index glass
Tall gratings: Gratings several microns in height with high >10:1 aspect ratios
Higher efficiency: Brighter/longer battery life
Wider field of view: Improved AR experience
Lighter weight: Fewer waveguides
Smaller footprint: Lighter/easier to style
Lower cost: Much lower cost of masters needed for manufacturing
High-performance plastic: Safer/lighter weight
Fast ramp-up to volume manufacturing: Simple manufacturing processes and
fast cycle time for design optimization and waveguide manufacturing
Benefits of SRG+ include:
4 times standard SRG waveguide efficiencies at less than half the cost
Simple process extension to VBG
Ability to mix and match VBG and SRG+ structures to optimize for the application
Lowest eye glow metrics
Near reflective efficiency at a holographic HOE price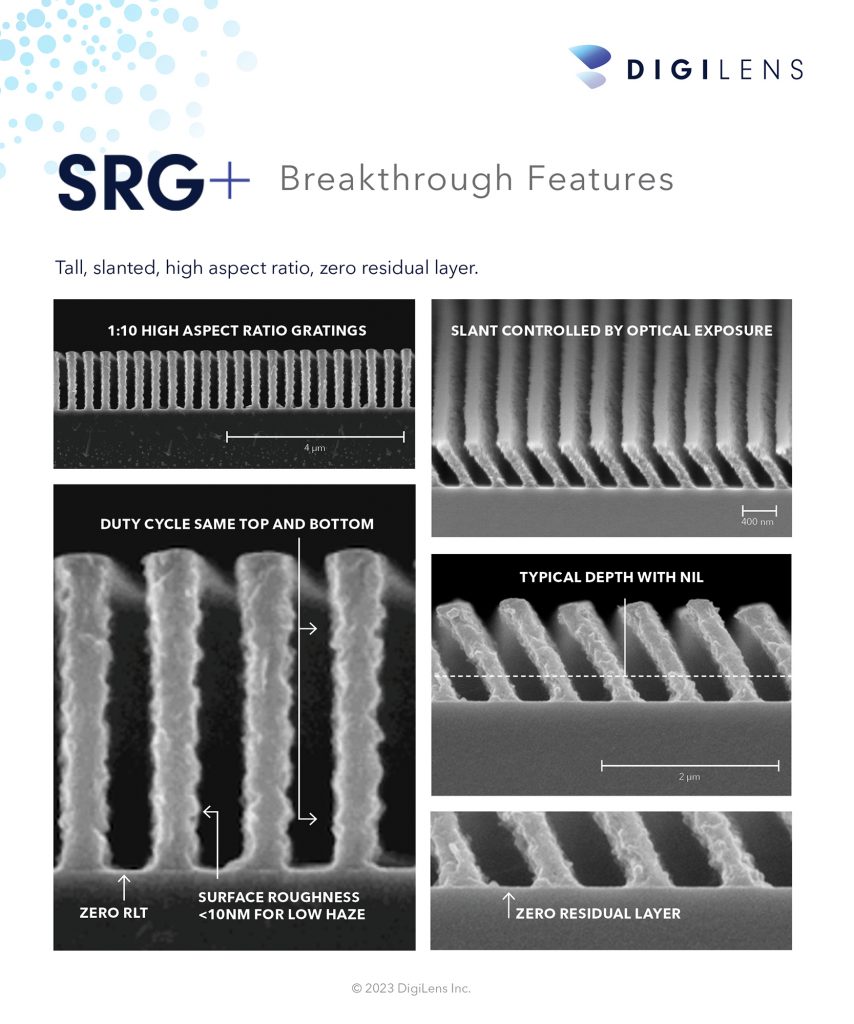 "With SRG+, we've unlocked the challenges associated with conventional surface relief gratings such as those made by NIL techniques, reaching unprecedented structure heights of many microns and aspect ratios that exceed 10:1, while retaining the low-cost manufacturing methodologies that underpin DigiLens' technology," says Alastair Grant, senior vice president of optical engineering, DigiLens Inc.
"Having a high-aspect ratio and no bias layer enables reduced stray light and higher efficiency, which can lead to improved performance of lightguide eye-pieces that enhance visual instruction and training to optimize workforce performance," said Dave Velasquez, vice president and general manager, Corning® Gorilla® Glass. Corning Incorporated joined DigiLens' Series D funding round as an investor in 2022. "There's exciting potential for SRG+ to deliver these important attributes for the future of AR technology."
---
About DigiLens
DigiLens is a leader in holographic waveguides used for XR displays. The company has developed a patented optical platform and photopolymer technology that delivers best-in-class solutions using a unique, low-cost contact-copy manufacturing process. DigiLens enables OEM partners to design and build XR-enabled devices for the global automobile, enterprise, consumer, avionics, and military industries. Based in Sunnyvale, CA, DigiLens investors include industry leaders like Samsung Electronics, Samsung Electro-Mechanics, Diamond Edge Ventures, the strategic investment arm of Mitsubishi Chemical Holdings Corporation, Alsop Louie Partners, Optimas Capital Management, 37 Interactive Entertainment, UDC Ventures, the corporate venture arm of Universal Display Corporation, Niantic, Inc., Sony Innovation Fund, Dolby Family Ventures, Continental AG, and more.
---
DigiLens Press Contact
Brian Hamilton
Brian.Hamilton@DigiLens.com