August 28, 2023
Examining the Results of the ERADEX Study
In the Part 2 this series, we outlined the details of a new study by the Augmented Reality for Enterprise Alliance (AREA), which explored AR's potential for use in delivering highly dexterous work instruction to manufacturing workers.
The report, entitled "Effectiveness Evaluation of Augmented Reality for Delivering Highly Dexterous Work Instruction (ERADEX)," examined the impact of AR in training users how to assemble composite materials.
Researchers used a between-groups experimental design, comparing KPIs of effectiveness for an AR treatment group with findings in a control group instructed without AR. The groups were made up of three different conditions: control (paper-based), digital (handheld iPad), and AR (Microsoft HoloLens 2). Each group was given the same work instruction sheet for all three conditions and asked to complete a composite bagging process task.
The study aimed to determine the transfer of how well participants learned while assessing their dexterity in using AR in setup and handling.
A pre-trial and post-trial survey was used to gather information about the participants' perceptions and knowledge of working with AR within their daily lives and during the dexterous work instruction. Participants were also asked to summarize their expectations (in the pre-trial survey) and their experience (in the post-trial survey) in one sentence responses.
What Participants Had to Say
Results of the study were very encouraging, both in terms of AR's usefulness for workers and its potential to positively impact the industry.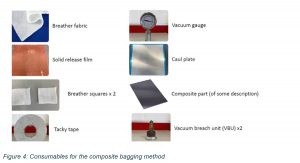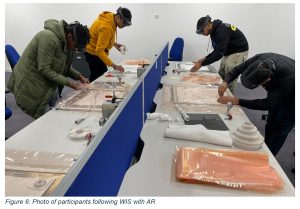 Here are some key findings:
The HoloLens 2 allowed participants to complete the high-dexterity task the quickest across all of the conditions. Participants said that the time needed to pick up and put down the iPad lengthened the time needed to complete the tasks. Since the HoloLens 2  is a wearable device, participants experienced no such delay.
During the pre-trial survey, 5% of participants strongly agreed that using AR increased their productivity. During the post-trial survey, that number jumped to 31.25%. Participants' agreement that AR applications could increase user engagement jumped by nearly 10% to 47.22% between the pre-trial and post-trial surveys.
Participants agreed that AR could promote both cognitive and collaborative learning, as well as help with content knowledge acquisition. During the post-trial survey, there was high agreement that AR increases the precision of learning activities. And half of participants said that AR lets them immediately know when a learning activity is finished.
Not only did the majority of participants agree that AR can be used to promote training engagements, many said that AR motivated them — both during the pre-trial survey and after they had completed three trials with it.
During the pre-trial survey, only 13.89% of participants said they strongly agreed with the statement "AR can promote attention and focus." That percentage rose to 31.25% in the post-trial survey. Participants also felt that wearable AR technology allowed them to become hands-on with the composite bagging task.
Participants' agreement with the statement that AR could improve trainee attitudes towards training content spiked during the post-trial survey, which indicates that participants felt that the AR was useful and could improve others' attitudes toward training in the future. Participants also agreed that AR personalized learning helped to promote attention/focus.
Not only did the participants recognize the advantages AR provided over the iPad and paper-based conditions, they also noted they would be interested in revisiting the use of AR in the future. One participant mentioned that it was much easier to view the video of the task in AR and simply copy it than it was to read about it and try to remember it. Another participant noted "AR is just super easy to follow" and that "it just works!"
Reactions and Recommendations from Researchers
In addition to pointing out the study's findings highlighting AR's potential to increase user engagement, promote cognitive and collaborative learning, and motivate workers, researchers noticed an overall sense of excitement from participants at trying something new.
After reviewing data from the study, researchers felt that AR would support the roll-out of new training within businesses without too much of a challenge, quickly allowing new technicians to get up to speed without the help of a trainer. Since all instructions/guidance could remain in the eye line, users wouldn't need to move their heads away from the area they are working in. This allows for a more productive and effective way to work. Also, since AR allows for a mixture of video and image content to support steps that would be complicated to present via text instructions, AR can help users know exactly what to do and allow them to re-watch the content if they need more support.
Researchers also recommended that manufacturers spend more on AR initially so that users could get the full benefit from the technology via an improved, higher-fidelity experience.
The final installment of this series publishes later this week and takes a look at the impact DigiLens' AR technology could have on the manufacturing industry.
---