August 21, 2023
Evaluating Augmented Reality's Impact on Manufacturing Training
As outlined in part one of this series, Fortune Business Insights valued the augmented reality (AR) market at $42.20 billion in 2022, and projects it to grow from $62.75 billion in 2023 to $1,109.71 billion by 2030.
AR is particularly helpful for manufacturing and construction industries, which leverage its power to enhance production line management, analysis, and interaction with virtual models, as well as for creating virtual blueprints and offering remote guidance.
A new research study by the Augmented Reality for Enterprise Alliance (AREA) shines a light on the potential for manufacturers to also use AR to aid in the training of its workers.
About the Study
The report, "Effectiveness Evaluation of Augmented Reality for Delivering Highly Dexterous Work Instruction (ERADEX)," outlines the significant challenges composite manufacturing companies face in reducing waste, completing tasks within shorter timeframes, and working within a consumer-driven, 'right-first time' production process.
The full spectrum of workforce training — from initial training for newly recruited employees to upskilling proficient employees — is crucial to maintain the high-quality standards of the industry. Companies must balance the quality and consistency of their training needs with waste reduction and address a fully sustainable approach to quality, as well as measurable productivity and output.
The COVID-19 pandemic accelerated the need to maintain this training and production balance. Consequently, the industry had to resolve new challenges of timely product delivery within accepted quality frameworks while continuing to upskill its workforce in the face of the new global challenges.
The ERADEX study reviewed the potential for using extended reality (XR) for training and adoption within the industry, as well as the AR trials used to deliver highly dexterous work instruction.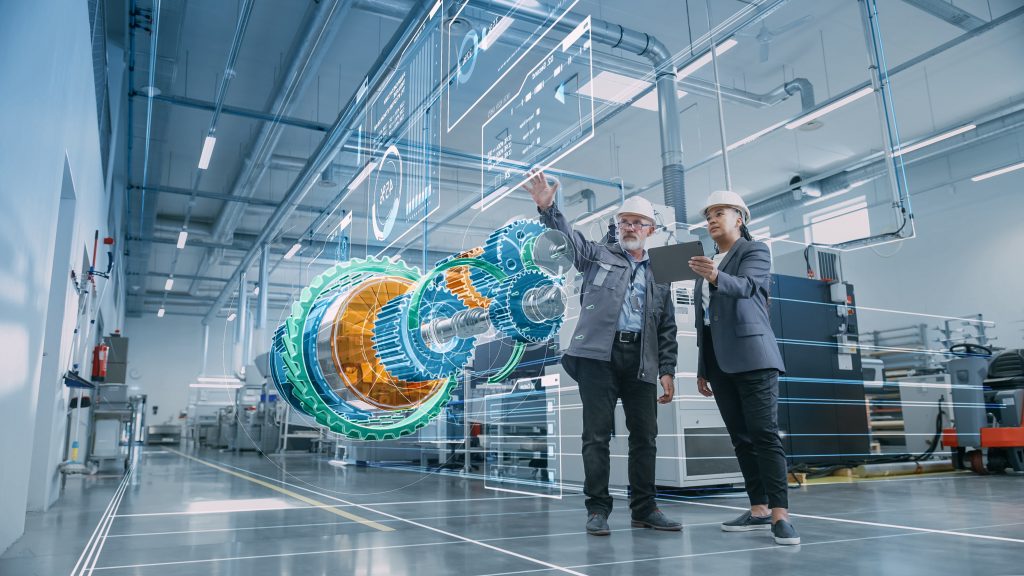 The study focused on four key questions:
How does AR for high dexterity tasks differ from other instruction delivery methods like paper-based instructions, classroom and online teaching, display monitor instructions, or audio-only instructions/guidance?
How are users impacted by the delivery of instructions using AR in high-dexterity tasks?
What are the key factors — like cost structure — that inform decision-making and drive return on investment in delivering work instructions for particularly dexterous, manual tasks?
Can AR-assisted work instructions for variable, flexible manual tasks help improve business processes such as quality improvement, productivity increase, waste reduction?
Researchers used a mixed methods approach to establish the following measurable outcomes:
Quantitative:
Completion time for training and transfer tasks
Number of errors observed within each task
Participants pass or fail
Testing time and accuracy elements of users engaging with specific parts of the composite assembly process
Impact on participant's technology acceptance, including assessing how the participant enjoyed/perceived the use of the AR to complete the dexterous task
Standard demographics (age bracket, gender, education level, etc.)
Estimated amount of scrap/rework material
Qualitative:
The resulting quality of the work product
Clarity of using the AR/Non-AR instruction
Assessing how intuitive the AR instructions were to follow and complete the task
Research Methodology
ERADEX sought to examine the impact of AR in training users how to assemble composite materials. Researchers used a between-groups experimental design, comparing KPIs of effectiveness for an AR treatment group with findings in a control group instructed without AR. Two training tasks introduced variance in the operation, with participants practicing a bagging process. The study aimed to determine the transfer of what participants learned — and what they didn't — while assessing their dexterity in using AR in setup and handling.
Researchers collected qualitative data from 33 participants from the trial comments/observations, as well as from a pre-survey and post-survey.
Three quantitative data metrics were used to record the accuracy of each participant's time, errors, and bag failure over a 45-minute trial time, with each participant completing three repetitions of each trial. Each participant alerted the facilitator when they believed the trial was complete. The facilitator would then determine the success or failure of the bagging test by assessing whether the completed process could withstand a vacuum and hold it for 2 minutes.
Upon completion of the trials, researchers analyzed the collected data to determine AR's potential to help manufacturers improve processes, allow more flexible working methodologies, reduce training time and cost, and upskill staff to different levels of the technical workforce.
Results of the study were very encouraging, both in terms of AR's usefulness for workers and its potential to positively impact the industry.
Part III of this series will publish the week of August 28th – stay tuned!
Read Part I of this series "From Niche to Necessary: Innovation and Integration in the Booming AR Market"