Thought Pieces
---
JULY 12, 2022
At DigiLens, we believe that our technology and XR innovations is uniquely positioned to overcome near-term and long-term challenges to address this decline. If history is any guide, new innovations and breakthroughs can help generate not just a recovery but a renaissance of new activity and industries.
---
March 24, 2022
The biggest names in tech are locked in a battle to define, shape, and equip the future digital landscape. Meta wants to call it the Metaverse. NVIDIA envisions an Omniverse...
---
June 16, 2021
DigiLens' CEO Chris Pickett summarizes where he thinks the industry is.
---
Scott Stein; Jan. 10, 2023
---
Anshel Sag; Jan. 10, 2023
DigiLens has announced a compelling new product for the AR market with its lightweight, industrial-grade ARGO headset—one that I believe fills an important gap for low-profile, standalone AR glasses.
---
Dean Takahashi; Jan. 10, 2023
Shams said, "Bottom line, the industry isn't moving fast enough. We have a ton of experience in building glasses. There are major issues with productivity and efficiency. XR can solve those issues and current glasses are just viewers or unsuccessful consumer products that failed and so they claim they are industrial."
---
Demond Cureton; Jan. 10, 2023
"The firm's latest innovation is a standalone solution for enterprise and industrial workers. It features some of DigiLens' top-rated crystal waveguides with multiple upgrades.

Numerous industries, including frontline workers, doctors, surgeons, and remote inspectors can boost real-time communications with the solution."
---
Sam Sprigg; Jan. 10, 2023
"DigiLens stated that in addition to increasing workforce productivity, reducing down-time, and minimizing delays through remote collaboration, its ARGO smart glasses also help to extend workforce availability and capacity via remote instruction and real-time supervision. As a result, the device can also help to reduce costs by overcoming the barriers of time, distance, and training to deliver expertise when and where it's needed most."
---
"Not only does Argo increase worker safety via increased situational awareness through real-time connectivity to environmental and other sensor technology, it also helps users work smarter by blending the digital and physical worlds with access to real-time data visualizations."
---
"ARGO smartglasses feature DigiLens' best-in-class crystal waveguides with industry-leading minimal eye glow and a small footprint, and are daylight bright for inside and outside use, resulting in a more user-friendly and socially acceptable product. ARGO improves communication and collaboration by creating a digitally-enabled workforce across a range of industries, empowering frontline workers from the field to the operating room."
---
The Infotech News Desk; Jan. 11, 2023
"Making a splash in the AR market with its ARGO headset, DigiLens announced the launch of the ARGO, a pair of smart glasses with standalone AR/XR capabilities for enterprise and industrial workers. The new tool enhances communication and collaboration, creating a digitally enabled workforce across multiple sectors."
---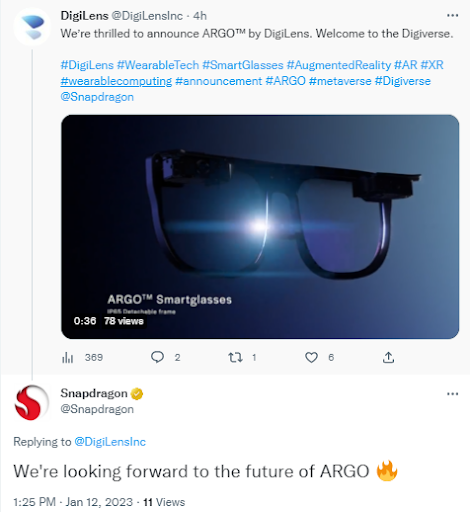 ---