Press Releases
Brian Hamilton, VP of Sales & Marketing at DigiLens said: "We are incredibly excited about the launch of the Leap Motion Controller 2 and its integration with our ARGO smartglasses"

Global Industry Leader in Extended Reality to Launch an All-In-One Snapdragon Spaces Ready AR Device, ARGO, Designed for Enterprise and Industrial-Lite Workers

Wisear and DigiLens announce a partnership to establish their position as leading providers of AR solutions for organizations and frontline workers.
Blogs
Work First, Play Later Why Industry and Enterprise Will Shape the Future of AR More than Gaming  Author: Chris Pickett I recently had the opportunity to speak at the World Government Summit in Dubai where …
Thought Pieces
If history is any guide, new innovations and breakthroughs can help generate not just a recovery but a renaissance of new activity and industries.

The biggest names in tech are locked in a battle to define, shape, and equip the future digital landscape.
---
"Having tried out the ARGO smartglasses at CES, my main surprise was that unlike convention AR/VR headsets, I was able to see through the glasses to be fully aware of the environment around me, yet still experience in front of my eyes a full computer simulation of a typical industrial scenario and get my hands around the projected system in front of me. It really was like wearing a full computer system on my head."
---
Scott Stein; Jan. 10, 2023
---
Anshel Sag; Jan. 10, 2023
DigiLens has announced a compelling new product for the AR market with its lightweight, industrial-grade ARGO headset—one that I believe fills an important gap for low-profile, standalone AR glasses.
---
Dean Takahashi; Jan. 10, 2023
Shams said, "Bottom line, the industry isn't moving fast enough. We have a ton of experience in building glasses. There are major issues with productivity and efficiency. XR can solve those issues and current glasses are just viewers or unsuccessful consumer products that failed and so they claim they are industrial."
---
Demond Cureton; Jan. 10, 2023
"The firm's latest innovation is a standalone solution for enterprise and industrial workers. It features some of DigiLens' top-rated crystal waveguides with multiple upgrades.

Numerous industries, including frontline workers, doctors, surgeons, and remote inspectors can boost real-time communications with the solution."
---
Sam Sprigg; Jan. 10, 2023
"DigiLens stated that in addition to increasing workforce productivity, reducing down-time, and minimizing delays through remote collaboration, its ARGO smart glasses also help to extend workforce availability and capacity via remote instruction and real-time supervision. As a result, the device can also help to reduce costs by overcoming the barriers of time, distance, and training to deliver expertise when and where it's needed most."
---
"Not only does Argo increase worker safety via increased situational awareness through real-time connectivity to environmental and other sensor technology, it also helps users work smarter by blending the digital and physical worlds with access to real-time data visualizations."
---
"ARGO smartglasses feature DigiLens' best-in-class crystal waveguides with industry-leading minimal eye glow and a small footprint, and are daylight bright for inside and outside use, resulting in a more user-friendly and socially acceptable product. ARGO improves communication and collaboration by creating a digitally-enabled workforce across a range of industries, empowering frontline workers from the field to the operating room."
---
The Infotech News Desk; Jan. 11, 2023
"Making a splash in the AR market with its ARGO headset, DigiLens announced the launch of the ARGO, a pair of smart glasses with standalone AR/XR capabilities for enterprise and industrial workers. The new tool enhances communication and collaboration, creating a digitally enabled workforce across multiple sectors."
---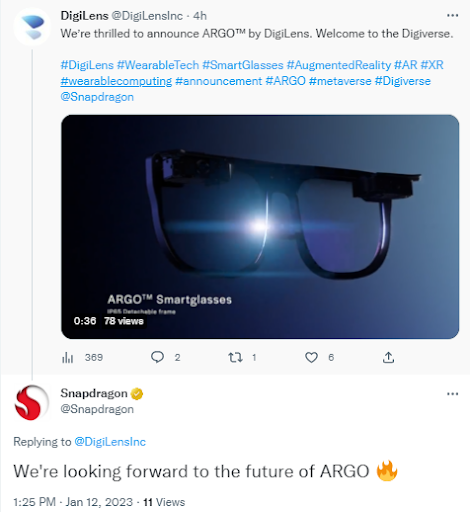 ---